A project is a set of welds defined by a job or an order. A project can have anywhere from one weld to thousands of welds. WeldTrace uses the term project and in small fabrication settings, the term job would be equivalent to a project.

Apart from the Super User, only the Account Administrators
who have been given the "Create Project" privilege can create a project.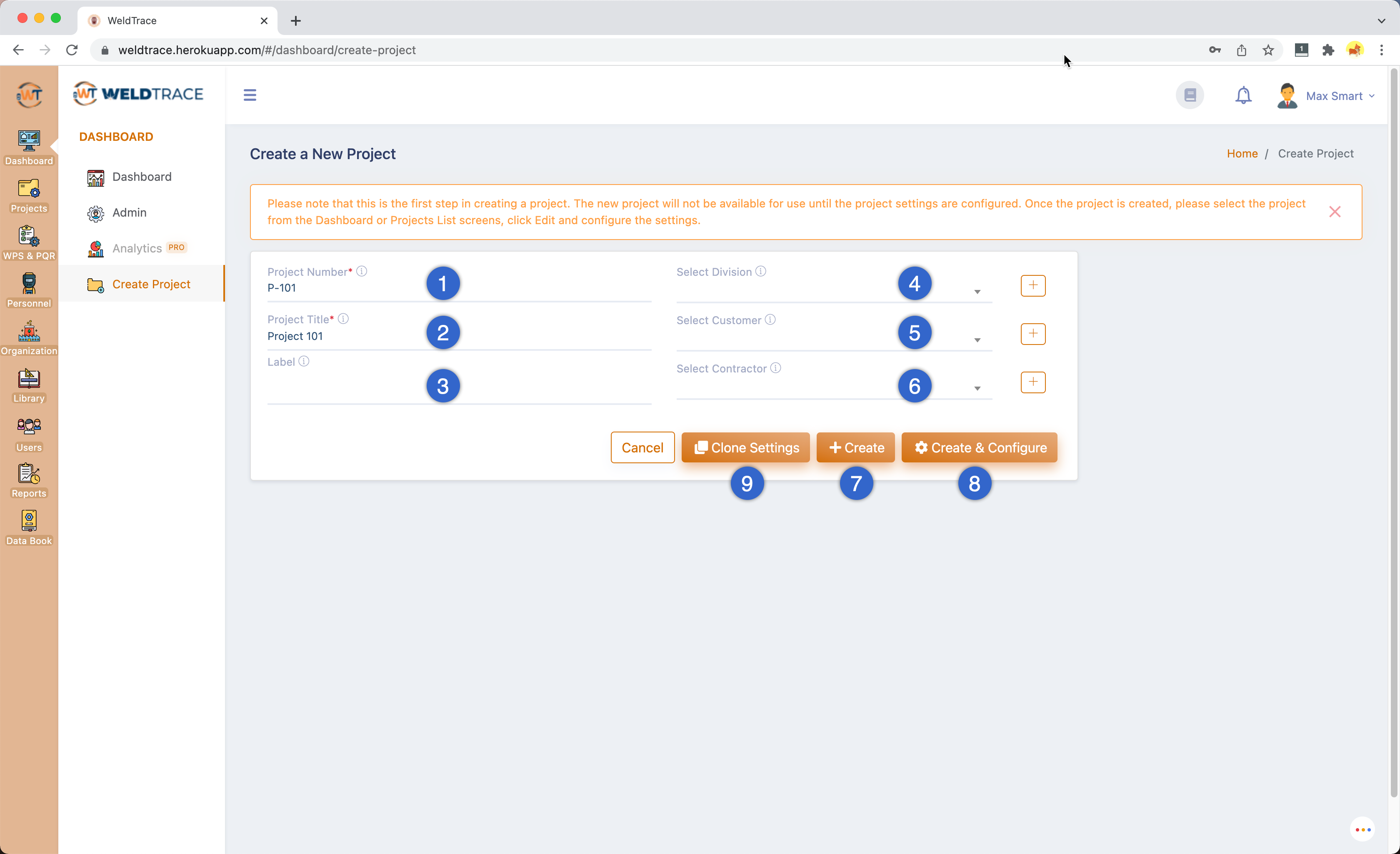 Creating a project - step 1
Project Number -

The first step in creating a project is to enter a project number and a project title. The project number must be unique and may contain only some special characters like ./#()- and space.

Number of characters: Min:2, Max:36;



Project Title - Project or job title doesn't have to be unique. Number of characters: Min:2, Max:72. There is no special character limitation;


Labels -

You may pick up to 3 letters or numbers as a label for this project, for example ST1 or 52X. The project labels will help you group projects for analysis and data visualization purposes;


Division -

You may also select (or add and then select) a division.

Division in WeldTrace is treated as part of your company. Creating a Division and assigning it to projects may be very useful for the purposes of data analysis. You will be able to compare and analyze the data from projects across divisions;




Customer -

You may also select (or add and then select) a customer. When you add a customer to a project, the customer's logo will be applied to that project. All the project reports will carry that logo instead of your account logo.

Assigning a customer to a project will be very useful for the purposes of data analysis. You will be able to compare and analyze the data from projects for a customer;




Contractor - Y

ou may also select (or add and then select) a contractor, if the project is executed by a contractor. You will be able to compare and analyze the data from projects executed by a contractor;

If you click this button, the project will be created and saved. It will not be available for use until it is configured;

Click here to configure the project;

Click here to clone the project settings from another project. Read this article for more information about cloning a project's settings;