Drawings are fundamental for creating any welded product. So, WeldTrace has been designed in such a way that every weld must be in a drawing. For this reason, a weld cannot be created until a drawing is created.

This doesn't mean that you need to have a drawing file. You only need to enter a drawing number. Uploading a drawing file is optional, but as you would find in another article, it is so easy to create welds when you upload and attach a PDF file to a drawing number.

A drawing can be in more than one tag. If you are fabricating more than one item from a drawing, for example 2 pressure vessels that are identical from 1 drawing supplied, as shown below, you need to create 2 tags first and add both the tags to this drawing. Tags can be created from the "Tags" menu or when you add a drawing.

With WeldTrace you only need to create a drawing entry and upload the drawing file once. You can use that drawing to create multiple items as well as produce multiple as-built drawings. In the example shown above, you can manage the fabrication of 2 pressure vessels with tags PV-01 and PV-02 as well as create 2 as-built drawings from the same drawing DWG-001.

Drawings List

When you select the "Drawings" menu, you will be taken to the drawings list page.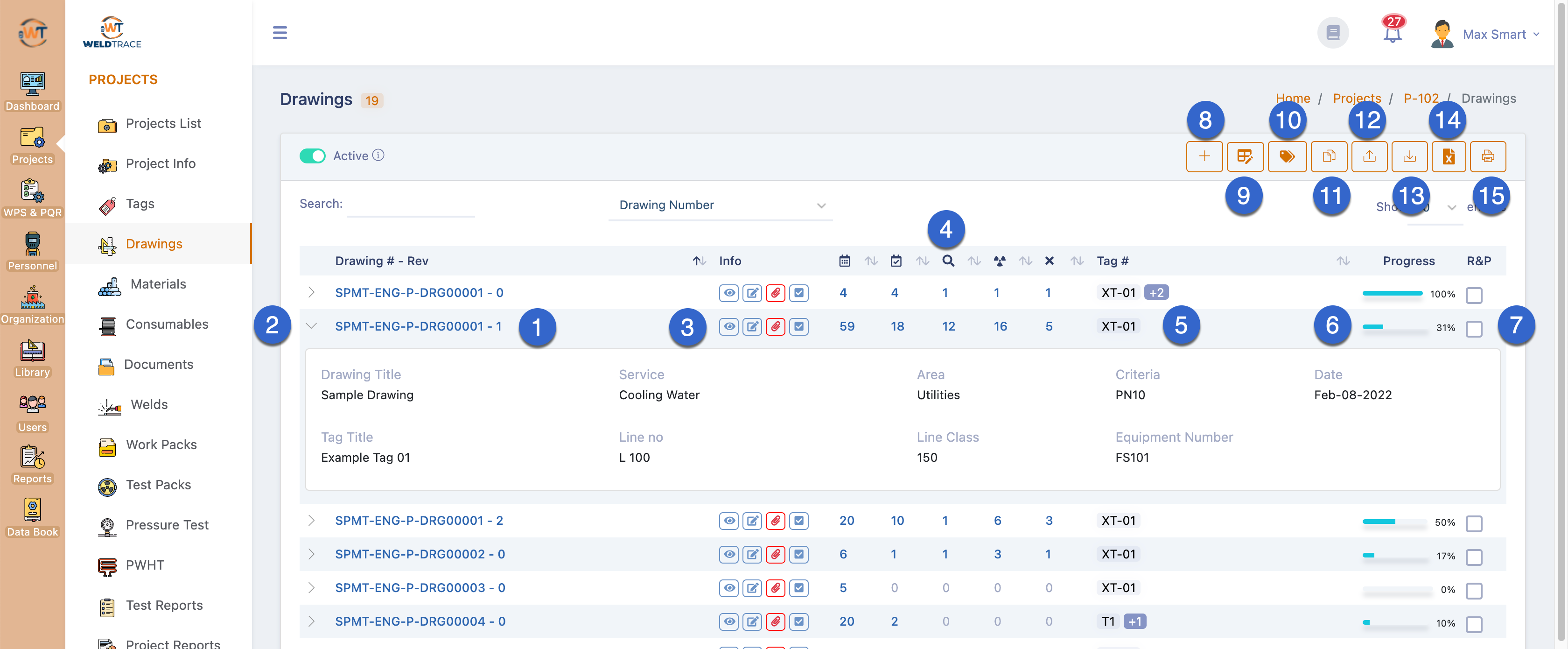 Drawings list page
Here you can see the list of all the drawings in this project. By default only the active drawings will be listed. You can slide the "Active" button to view all the drawings, including the inactive drawings. A drawing can be marked as inactive, which will then make it unavailable for use.

Drawing Number-Rev: To navigate to the drawing's detail page and edit it or send an instant message to a project team member;

Click on the arrow to open the accordion view to see more information about a drawing;

Info icons:


Eye: To view the weld map and navigate to a weld;

Draw: To annotate on a drawing to create the weld map;

Paper clip: Indicates that a file is present. If it is blue, it means that there are no annotations in that drawing. If it is red, it means there are annotations present;

Blue tick or cross: A blue tick mark indicates that the drawing's status is active and the cross means it is inactive (move the "Active" slider button to view the inactive drawings);


The numbers shown in these 5 columns are for the number of welds in that drawing that are planned, completed, inspected, tested (NDE) and failed. You can navigate to the list of filtered welds by clicking on these numbers;

Tag # column will show the tags the drawing has been added to;

The progress bar will indicate the percentage of welds that are completed;

R&P: Select the check boxes in the render and print column to print the weld maps for selected drawings. The printer icon button will be disabled until you check the check boxes in the R&P column;

Click here to add a drawing one at a time;

Click here to create or edit drawings using the spreadsheet interface;

Click here to go to the Tags list;

Click here to go to the bulk file uploads wizard to upload and attach drawing files;


Export the drawing weld mapping annotations as a csv file;

Import drawings list in a csv file to create drawings in bulk;

Export the drawings list as a csv file that you can open with Excel;

Select drawings (use the checkbox in the "R&P" column) and print the annotated weld maps as a PDF file;