Download the template file

Import WPS list in a CSV file
Download the template file;



The template file will be downloaded and it should appear at the bottom left hand corner if you are using the Chrome browser. The location of the files that are downloaded from a browser could vary depending on your computer's settings;

Click here to upload the file once you have the data entered;

Link for the help center article on how to import data in a CSV file;
Enter data into the template file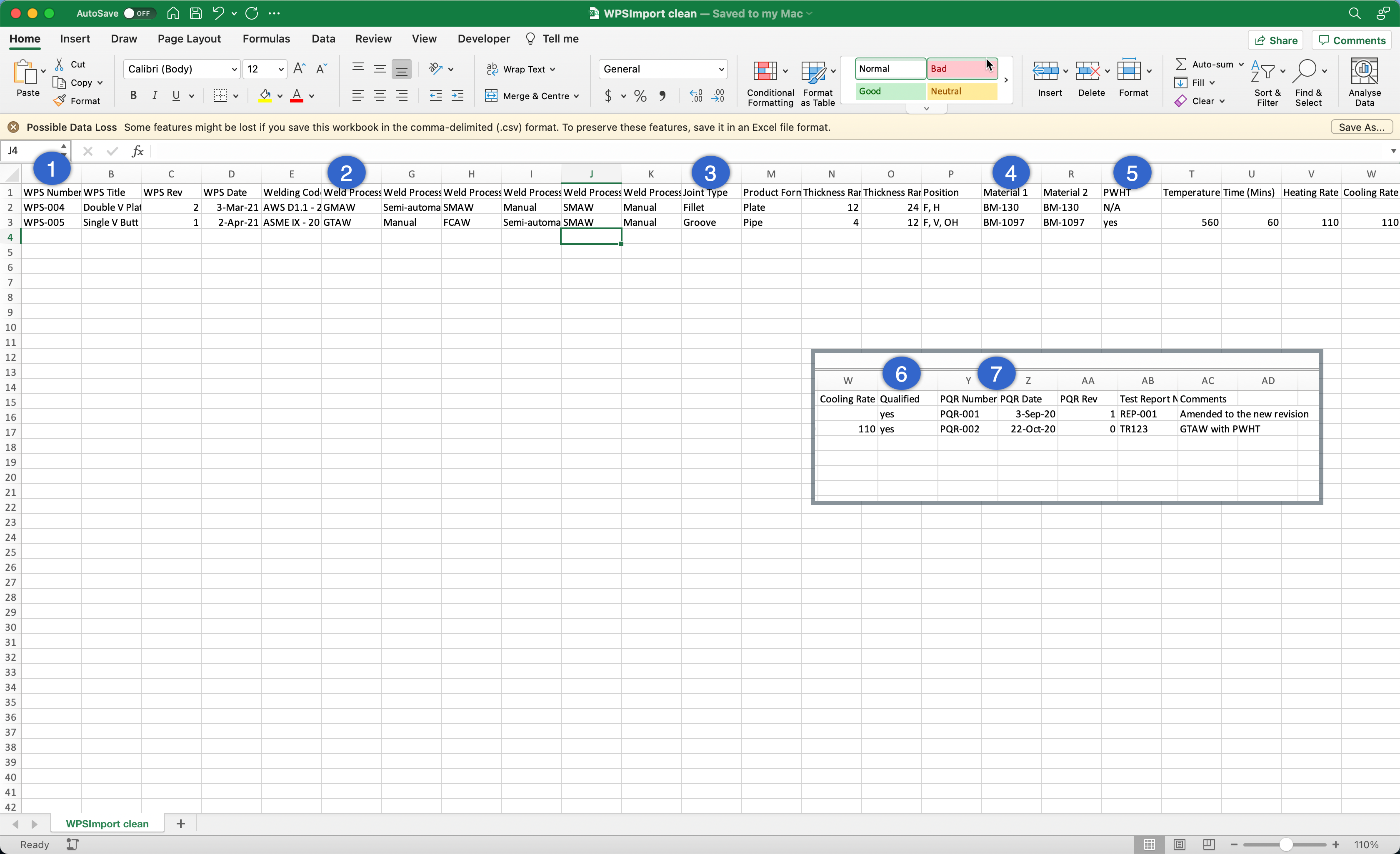 Enter data in the CSV file
Open the template with Excel or another program that can be used to edit csv files;

Do not edit the header row and do not change the order of the columns. The import process will not work if you make any change to the header row;

Enter the data. Please check the knowledge base article for adding the data one at a time to find which fields are mandatory and which ones are optional, for using special characters, number of characters, etc. Also make sure to check the spelling and abbreviations, like shown in this screenshot;

Enter only the options given in this article: Add a WPS;
Enter the WeldTrace base metal reference that you will find in the first column of the base metals library. Use the whole text including the ""BM-" prefix;

If PWHT is not applicable, enter "N/A" and if it is applicable, enter "yes";

Enter "yes" if the WPS is qualified. Only the WPS that are qualified can be used in projects;

Enter the PQR details. You can only enter one PQR per WPS through this method. If a WPS has more than one PQR, you can edit a WPS and add another PQR;
Upload the csv file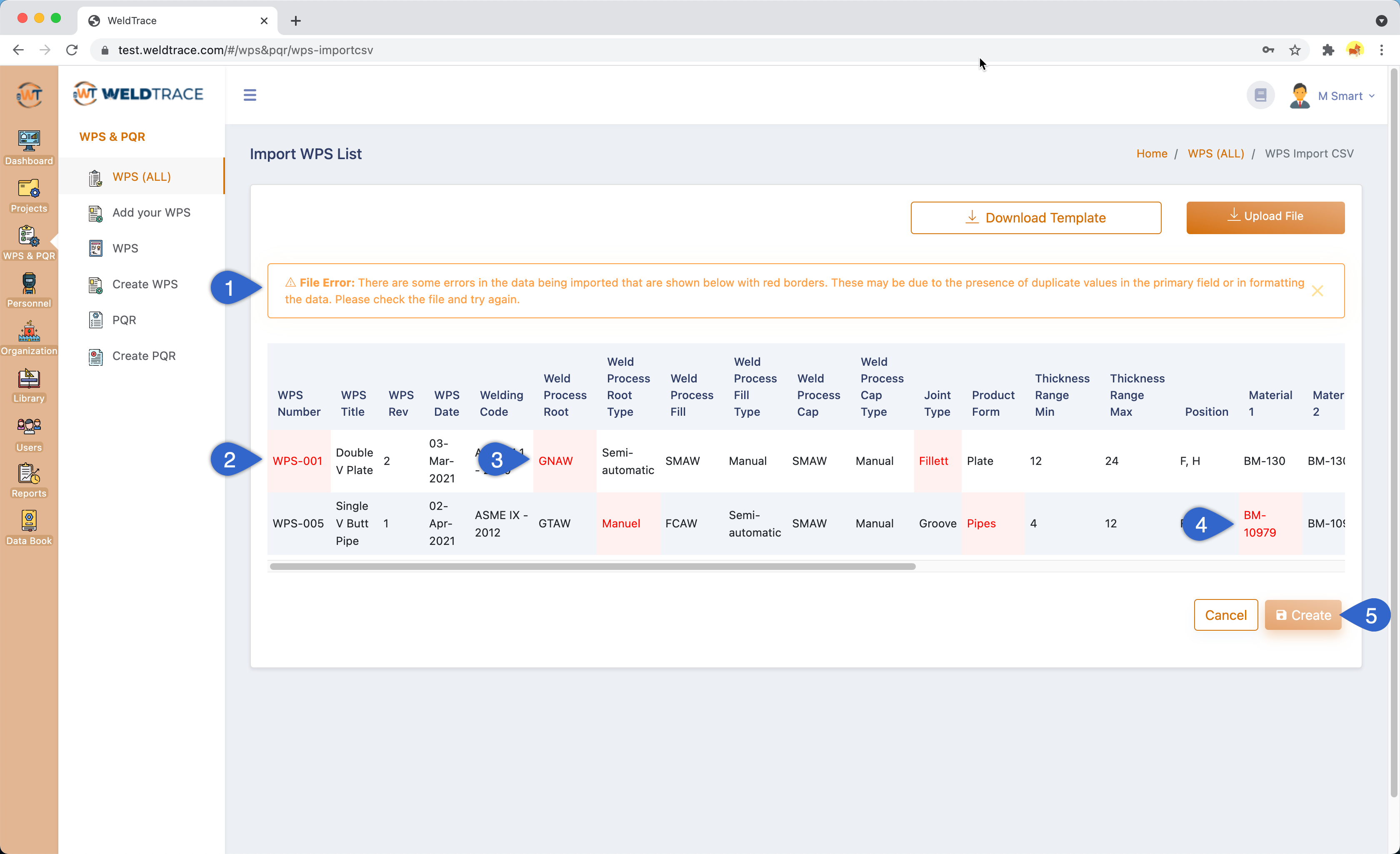 Importing a WPS list with erroneous data
WeldTrace will read the csv file and evaluate the data and if there are any errors a warning message as shown in the screenshot above will appear. Data that is not acceptable or with some errors will be in red text and highlighted in a red background.

This error message will appear when you import a file that has one or more errors;

This error is for a duplicate WPS number;

These are typos (spelling mistakes) or for using terms that WeldTrace does not use;
This error is for a base metal number that does not exist;

The create button will be disabled if there is any error;
Import data when no errors are found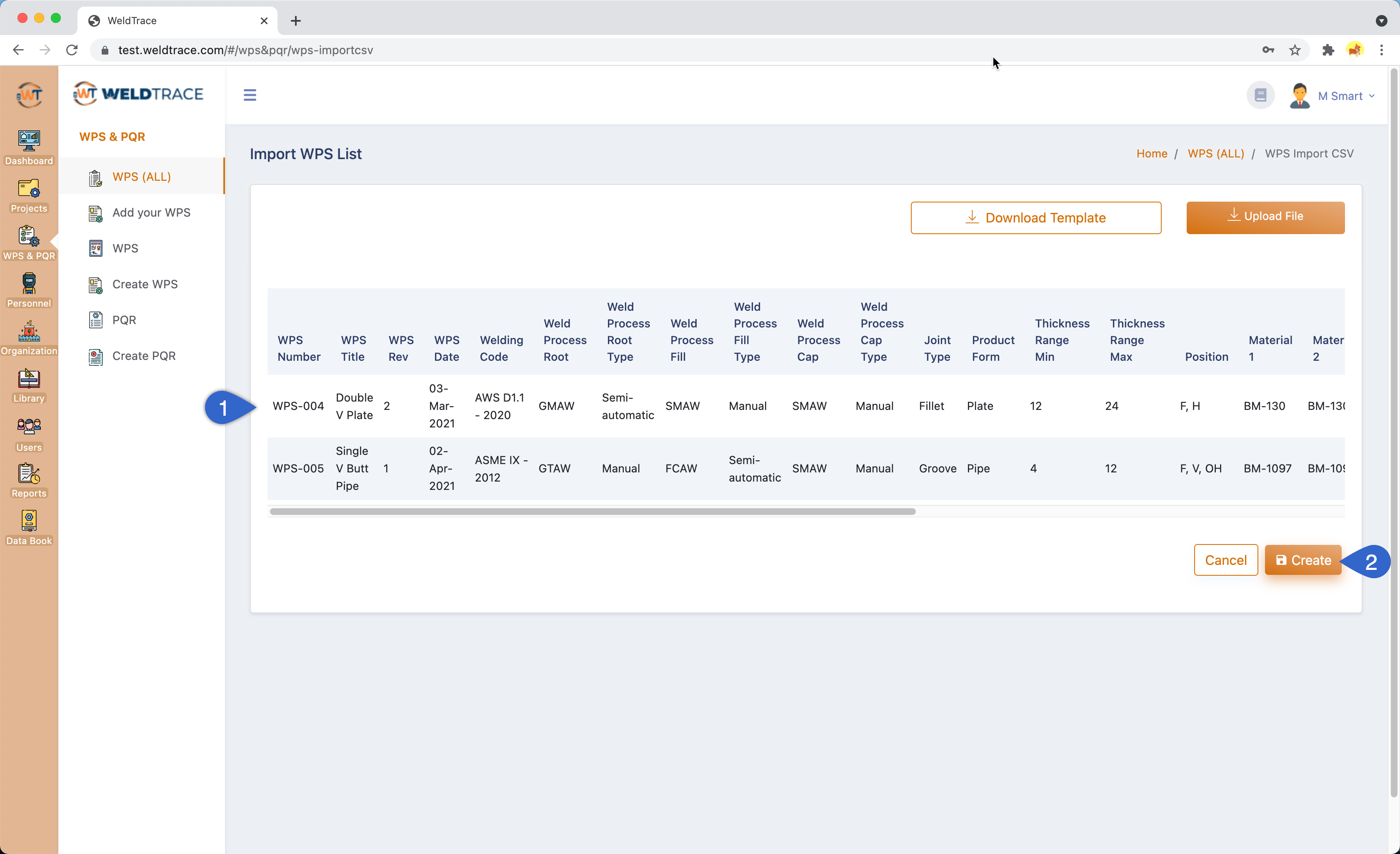 Import WPS list in a csv file
If there are no errors in the uploaded csv file, the warning will not appear and the "Create" button will be enabled.

The data that has been read from the csv file is shown with no data appearing in red;



When there are no errors, the button to create the data will be enabled. Click to add the data to the WPS list;